Thanks,
nevillegirl
, for tagging me! :)
TBR Tag
My TBR shelves, which are, for the most part, alphabetized.
1. How do you keep track of your TBR pile?
Goodreads, mostly, and this super cool jar filled with sticky notes that have the titles of all the books on my bookshelf written on them. :) When I can't decide what to read next, I let the jar pick for me.
2. Is your TBR mostly print books or e-books?
I don't like reading e-books that much, I much prefer physical copies. So if it's ever possible not to read an e-book, I pick that.
3. How do you determine which book from your TBR to read next?
See #1.
4. A book that's been on your TBR the longest?
Umm, probably Twilight by Stephenie Meyer. Either that or
5. A book you recently added to your TBR?
This Star Won't Go Out: The Life and Words of Esther Grace Earl by Esther Earl, Wayne Earl, and Lori Earl.
6. A book on your TBR strictly because of its beautiful cover?
I never pick books based on cover alone, although there are covers that draw my attention more than others. I especially like minimalistic covers, like Eleanor & Park and the Lunar Chronicles books.
7. A book on your TBR that you never plan on reading?
I'm reading all of them!
8. An unpublished book in your TBR that you're excited for?
Winter by Marissa Meyer, The Seeker and The Soul by Stephenie Meyer, and Glory O'Brien's History of the Future by A.S. King.
9. A book in your TBR that everyone recommends to you?
The Raven Boys by Maggie Stiefvater, Throne of Glass by Sarah J. Maas, Anna and the French Kiss by Stephanie Perkins, Alice In Zombieland by Gena Showalter, Aristotle and Dante Discover the Secrets of the Universe by Benjamin Alire Sáenz, Shiver by Maggie Stiefvater, The Selection by Kiera Cass, Daughter of Smoke and Bone by Laini Taylor, and Clockwork Angel by Cassandra Clare, all recommended by various blogger friends.
10. Number of books in your TBR?
Goodreads: 22
Bookshelf: 53
Book Blogger Confession Tag
1. Which book did you recently not finish?
The Iron Trial by Holly Black and Cassandra Clare. Bleh.
2. Which book is your guilty pleasure?
No guilty pleasures. :) Just pleasures.
3. Which book do you love to hate?
I don't love to hate any book, because I want to like them all! But currently my least favorite books are Cather In the Rye by J.D. Salinger, Trash Can Days by Teddy Steinkellner, The Book of Three by Lloyd Alexander, and The Iron Trial by Holly Black and Cassandra Clare.
4. Which book would you throw into the sea?
*gasps* Did you just suggest I would actually, voluntarily, throw a book into the sea?!
5. Which book have you read the most?
The Harry Potter series, no contest! :)
6. Which book would you hate to receive as a present?
See #3. (Ironically, I own all three of those books, too.)
7. Which book could you not live without?
The Harry Potter series. But other than that, since I have to pick one, technically, Eleanor & Park by Rainbow Rowell. Just seeing the title and author makes me happy. :)
8. Which book made you the angriest?
I don't think a book has ever made me angry, except when I get frustrated by how much time I'm wasting reading a book I hate.
9. Which book made you cry the most?
That's a three-way tie between The Fault In Our Stars by John Green, Allegiant by Veronica Roth, and We Were Liars by E. Lockheart.
10. Which book cover do you hate the most?
This one.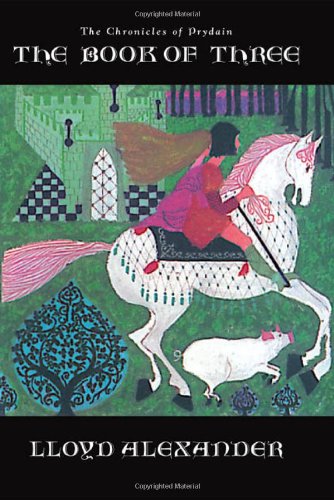 Just . . . what happened here? The whole cover is an ugly shade of puke. It doesn't even look professional. It's like his kid drew it and he felt bad not putting it on his book.
I tag anyone who wants to do this! :)